REVIEW
festival
Old Subbacultcha
Old Subbacultcha
Virgins To Experts - "Standon Calling" Caters For All
Published by Review from old page
Celebrating its 10th year, this is a festival and a whole lot more. Taking the theme of Lost in Latin America, festival goers were wearing anything from sombreros to skeletons and everything in between.
It was good to see the theme ran throughout with the usual festival stalls selling items such as Day of the Dead face masks, margarita and burrito stalls, and even a Mexican wrestling ring. Oh, and a dog show, I'm not quite sure how that fits in.
This is the only festival that I know that has a pool, which fits in well with the family vibe, but I opted out of swimming as the area was crawling with kids so the rest of the thirty-something crowd kept well away.
The Cuban Brothers hit the stage and although most of the songs they performed where covers and it was more about the dancing then the performance, the entertainment factor was definitely there. As well as including the Lost In Latin America theme, they didn't take themselves too seriously.
With Miguel Mantovani stripping down to his pants and really getting the crowd going, when the rain hit no one seemed to mind. The most captivating act I saw all weekend!
Public Enemy headlined on Saturday. The energy was positively buzzing but there was no problem getting right to the front. Given they've been going for over 30 years (with a few member changes) I did have my doubts about their performance.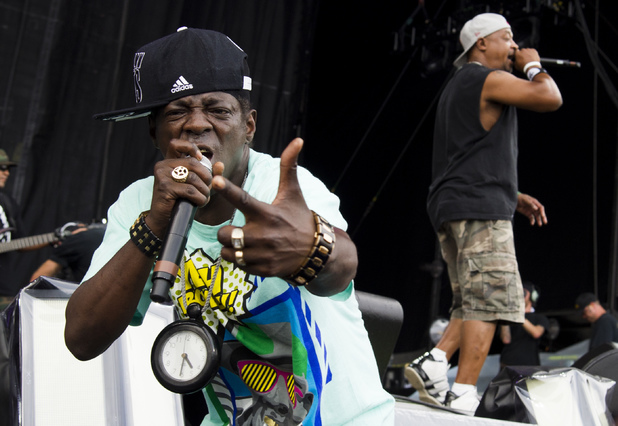 All doubts were quickly put to bed with their showstopping performance including some impressive dance moves from Flavor Flav. As their set progressed so did the crowd and this was the only time it became more like a mainstream festival with a 'mosh pit' and some not-so-civilized exchanges between the audience to add to the mix.
On Sunday with most hangovers in full swing the general feel around the festival was a much mellower one. With most people taking to lying down at the main stage I joined them just in time to catch the Hackney Colliery Band, who had a tough job in warming up the crowd.
Being a brass band I did not think this was my thing, however, mixing it up with a few classics such as Adele's Rolling in the Deep, by the end of their set they had the zombie-like audience joining in superhero moves.
African-style music group, Ibibio Sound Machine, despite making a lot of noise, were not as impressive. However, New York collective Easy Stars All Stars, with their reggae beats courtesy of Pink Floyd easily pleased my Sunday afternoon.
With the sudden cancellation from Ella Eyre and The Fat White Family, the Young Father's took their time slot. Their electronic hip-hop sound was enhanced by a powerful stage presence, and the trio gave a deafening performance.
I was surprised how much I enjoyed watching them – this is definitely a band you have to see live. However, their constant use of strobe lighting was a bit off-putting whilst trying to enjoy the energetic performance they laid on.
With Maximo Park not taking to the stage until 9:30pm and the weekend drawing to a close with the cold air setting in, I questioned how much I was going to enjoy their performance. But after their set I just found myself liking this band ever more.
They paused between each song to introduce the next and gave a background  story to each song which I loved hearing. With this band's down-to-earth attitude, I was a little disappointed when my favourite song from their new album was not featured in the set as they thought it unfair to play as people might not know it. However they didn't fail to deliver the goods with Paul Smith's energetic dance moves stealing the show.
After an eventful weekend I have come to the conclusion that this festival is ideal for families and music listeners who aren't such a big fan of the crowds that usually ensues with festivals. I had no fears of losing who I came with and enjoyed the intimate set-up of the festival, loving how easy it was to get to the stage but also able to make a quick retreat.
The general mood around the event was a relaxed one and albeit Monday morning was a struggle, I don't have a festival hangover.  Definitely worth a look in for those festival virgins out there.
Written by Robyn Chamberlain-Webber COMMENTS