REVIEW
festival
Old Subbacultcha
Old Subbacultcha
Dirty, Mental & Enough Hormones To Reverse Menopause; It's Reading & Leeds Time...Part 2
Published by Review from old page


It was an epic weekend of top acts and carnage and so far we've just covered Thursday and Friday's activities.  Here's the rest of Subba-Cultcha's weekend.


Saturday

Twin Atlantic provide their Scottish tinged lyrics on Saturday from the NME stage, with 'Heart and Soul' receiving hoarse echoes from the crowd as they battle through two days of smokey campsites. The British answer to Tame Impala, Temples craft their way through 70s psychedelica with a hint of T.Rex thrown in. Then popping over to the main stage to see old hats at Leeds, Vampire Weekend.
Ezra Koenig, heads the band rather under dressed in full Nike track suit, but that doesn't mean the tracks are lack luster. Tracks from latest album 'Modern Vampires of the City' really boost the set with 'Diana Young''s whirlwind pop perfectly counterbalanced by slower bounce along 'Step' before the peak of 'Walcott' ends the set on a true cacophony of noise, are they one album away from headlining? Surely it's on the cards.
Next up was co-headliner Queens of the Stoneage, a true dedication to their following was the fact that despite a deluge the main stage was rammed, truly even the heavens had weeped for Josh Homme's excellent brand of bluesy rock with the pounding of 'My God is the Sun' you know this band has the potential to be headlining constantly.
If other co-main stage headliner Paramore aren't really your thing, then you may have slung off to see Metronomy finish their set on the NME stage. As British dance acts go there are none as fun and diverse as Joe Mount's collective band, boosted by recent addition of traveling keyboardist Joe has blossomed into the front man his songs truly deserved. 'The Bay' is sunshine indoors and chimes with all the synths the English Riviera are made from and recent hits of the motown esc 'Heartbreaker' have the crowd in waves, whereas slow 'I'm Aquiarius' becomes a behemoth even more daunting then on record. Truly the band have refined and boosted their live performance.
Next on the NME STAGE was a band so ingrained in Mancunian life that I'm surprised babies don't come out humming 'Acrylic'. Courteeners not even a week after the release of their latest album 'Concrete Love' storm the headline slot. If you haven't seen Courteeners in the North then be prepared for an eye opening experience. Every song is spat back with such gusto that you'd think it was part of the A-levels most of these lot have just finished.
New hit 'Summer' with a bassline with such a relaxed groove that it actually massages your shoulders is somehow already confidently prominent in the set. Set closers 'Not Nineteen Forever' and 'What took you so Long?' had the crowd creating mass mosh-pits and the crowd a sea of hands cavorting like the google-eyed girls the band themselves rightfully penned. Truly as Northern as gravy on chips.
Sunday
Sunday bloomin' Sunday. Your heads gone, probably left on the stagger back home from to your tent last night, and your speaking entirely in whispers from the constantly churned black smoke meaning no one knows what anyone's saying all day. Thankfully the BBC Dance stage had a little treat for you at midday.
Milky Chance appeared just in time, managing to mix dance music with lullabies like having MK for a Nanny. Their debut album live is so full of hooks I thought I was in a tackle store. Every riff playfully skipped into the next, hard to believe just two men and a friend playing harmonica could create such a sound.
Filling a tent 12 on a Sunday is truly a staggering success, having them all dance and sing-a-long is nothing short of a miracle, so praises to Milky Chance as they end on the hit single 'Stolen Dance' successfully owning the stage. Band of the summer Royal Blood demonstrated that Brighton's latest output is something to keep an eye on. With thrashing blues-bass given secret ingredients, force fed whiskey, till it squeals and wails as if Jack White himself had put a spell on it fills the stage.
'Little Monster' has that hair raising quality few bands can achieve in a life-time and 'Come on Over' is ferocious as motorbike driven by a grizzly bear.  Living up to their bad-tempered songs the band end their set by being told they must leave the stage, they of course refuse, starting chants and not moving. Tip to festivals, give the crowd what they want. Sadly they left the stage to "These f***ers won't let us carry on", well always leave them wanting more I guess.
Heading over to the main stage and The Hives prove that having a front-man who can confidently hold a festival crowd in the palm of his hands is worth everything. Howlin' Pelle Almqvist had the crowd sitting and baying for more, and if you think a band like the Hives would drag out their two biggest hits? Well you'd be right, "Hate to say I told you so" and "Tick tick Boom" lasted an extra 5 minutes due to the onstage banter, but it was fascinating to watch none-the-less. Honestly they should become DJs cause they know when to let the beat drop.
Foster the People provided a stark contrast. Their poppy hits were chirpy, but fell slightly flat on the main stage. 'Pumped up kicks' of course provided a raucous response but many of the second album failed to persuade the crowd that they had any other hits.
Following one radio hit band to another, Imagine Dragons take to the stage next. You have to hand it to them enthusiasm wise they have it in buckets, even playing Blur cover 'Song 2' to try and win over the British crowd. But it isn't until ending singles 'On Top of the World', 'Demons' and 'Radioactive' do the band really receive a positive response. The latter song ending on the proposeterously large drum off featuring what must have been the biggest drum to ever grace Braham fields being beaten till frontman Dan Reynolds lungs must have collapsed on themselves.
In complete contrast Jake Bugg's set is void of all bells and whistles, perhaps it's due to the very few gigs he himself has ever been to, or the fact that he feels he can rely upon his clever songwriting of catchy Nottingham based escapades to not need them. Old classics join hands with second album favourites. "I've seen it all" is even more cutting live then on record, especially with the context of seeing someone get stabbed, "Two fingers up" has everyone giving the v's and take on the wanderlust vibe of youth.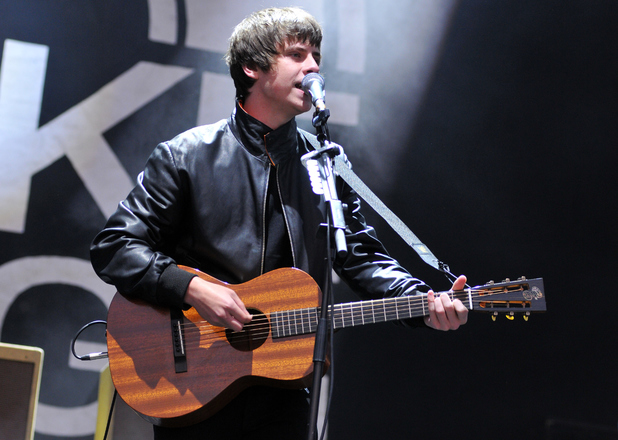 The set ender and overall Bugg favourite 'Lightening Bolt' is short but sweet, but as would Jake be if only he ever smiled. Finally though as the gigantic 'AM' symbol snaps into action do you know that Alex and his Sheffield companions have returned, and my god have they changed from their 2009 headline slot.
Arctic Monkeys bid farewell to AM in Britian at Leeds festival, but it was a hell of a send off.  Alex steps out with a Jacket emblazoned with white roses, a homage to his home county, dressed all in black his hips don't stop girating throughout the performance. Now perfect open set starter 'Do I wanna know?' with it's sluggish riff starts the crowd into a frenzy which doesn't let up till 'Brainstorm' and 'Dancing Shoes' lets up, now both constant indie-disco classics.
All the albums are covered with 'Don't sit down's' confident swagger and nonsensical lyrics cast in the shadows of multi-coloured smoke grenades that provide a stark contrast to the monochrome stage styling the Monkeys laid out. Alex rarely addresses the crowd, but each time you feel the crowd roar and women's knees physically weaken, especially as he dedicates "I bet you look good.." to all those "lovely ladies" out there.
The first set ends to " I wanna be Yours" and it feels like they have given themselves to the crowd heart and soul. The encore ends on the game-changing "R U Mine" fitting as it's the song that started the boys to record the new album, and the one to leave us tantalizingly begging for a new one. The boys may be gone from our shores for a while, but whatever they do next you better believe they left a very fond parting gift at Leeds festival.
Written by Jack Wood. COMMENTS